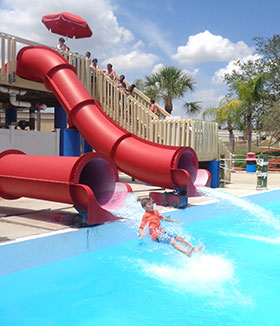 Drop Slide
The Drop Slides offer a thrill factor by giving guests a similar feeling to free falling with nothing in the way to slow you down. Adventure seekers may try these before proceeding to the steeper and more challenging speed-slides.

Minimum height requirement is 48″ tall.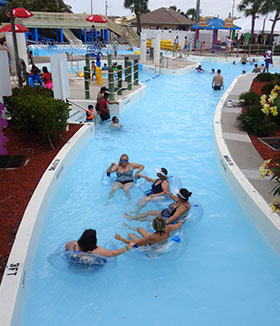 Main Stream River
Tube Ride
For the maximum in relaxation, a favorite attraction of the young and young at heart is the Main Stream River Tube Ride. This quarter-mile river gently winds its way around the park, moving past Lake Kennedy and many of the other park attractions. So, grab a tube, get comfortable and relax as you float around the park!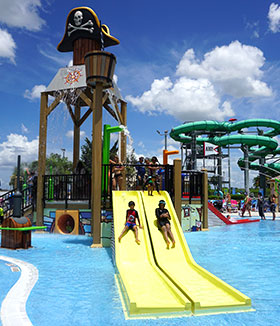 Pirate's Cove
Pirate's Cove is an interactive water play structure for younger adventurers and features slides, a hydro storm, blasters, gushers, geysers and more.

Must be under "48 inches to utilize the slides.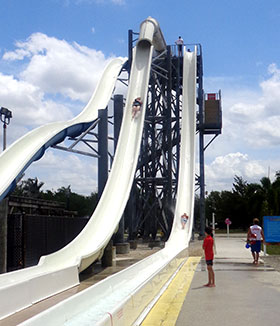 Terror Tube, Thunder Bump and X-cellerator
Test your nerves and choose one of three of the most thrilling water slides in the park. Each offering the tallest, fastest and most exhilarating experiences. Choose one or choose them all and find your favorite.

Minimum height requirement is 48" tall.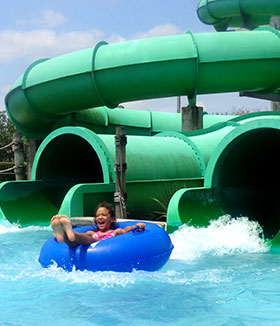 Electric Slide & Power Surge
The two twin Slides drop five stories, twisting and turning for 457 feet, sending riders on a 27-second plunge into its own pool.

Must be 48" to ride by yourself or without an adult 36"-47" must be accompanied by an adult, using a double tube, handles facing forward, child sitting in front, and child wearing a lifejacket.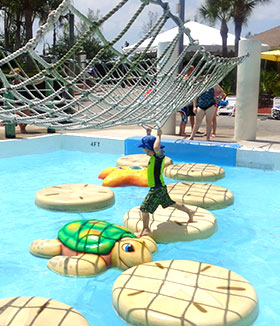 Sand Dollar Walk
Test your strength and agility on our Sand Dollar Walk. Grab the rope above and see if you can walk across the sand dollars that float beneath your feet without falling in.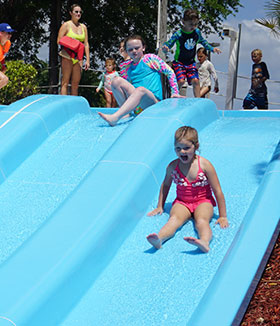 Pro Racers
Youngsters have a blast on the Pro Racers! These child-sized slides are not as scary as the big rides giving little ones a chance to enjoy thrills made especially for them.

Height requirement is under 48″ tall.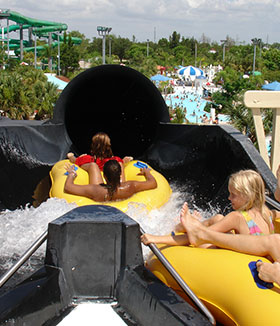 Cape Fear
Cape Fear screams from a 30-foot-high platform through a darkened tunnel for a length of 215 feet, using single or double inflated tubes.

Minimum height requirement for single riders is 48″ tall. Double riders must include an adult and children must be a minimum of 36" tall and must wear a life jacket.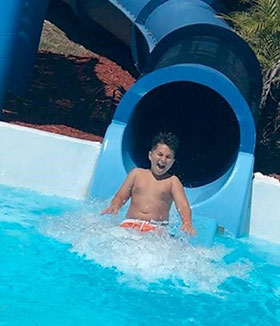 Fun-L-Tunnel
The Fun-L-Tunnel is a slide on the wild side. This narrow darkened tunnel drops 30 feet without a tube. It's just you and the water for 200 feet.

Minimum height requirement is 48″ tall.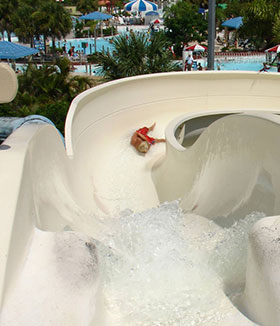 Zoom Flume
Watch the sky slip by as you zip down our open-air Zoom Flume. It descends from the same 30-foot-high tower as the Cape Fear and Fun-L-Tunnel and goes on for 200 feet.

Minimum height requirement is 48″ tall.